For businesses selling to a local market, reviews are crucial for driving customers to your door and helping you appear higher in search results.
According to BrightLocal's annual survey, 94% of consumers said they were more likely to use a business if they had positive reviews, and 92% less likely if they had negative reviews.
At the same time, a recent WhiteSpark survey acknowledged the importance of certain review factors as important local SEO ranking signals.
The pandemic's effect on reviews
The pandemic arguably made reviews even more precious and provided more opportunities for positive and negative feedback.
According to Joy Hawkins, Yelp saw more 5-star reviews in 2020 than in the last two years, and Brightlocal's annual survey showed a general increase in people who have written reviews: "72% of US consumers have written a review for a local business – a big jump from 66% in 2019." 22% of them even said that they wrote reviews in order to help local businesses weather the pandemic.
Source: BrightLocal
At the same time, 17% of those surveyed by Brightlocal said they wrote negative reviews for businesses that "did not have health and safety measures in place for Covid-19," and fewer total Google and Yelp reviews were left in 2020, according to Hawkins.

Google even turned off the review function in Google My Business (now known as Google Business Profile) temporarily while businesses scrambled to update their profile information at the beginning of the pandemic in the US.
This was done to head off too many negative reviews from customers confused by out-of-date information as well other COVID-related factors.
From this data, I conclude that:
Individuals who were not as willing to write reviews before were more likely to in 2020.
There were fewer total reviews.
If you tried to please your customers, there was a good chance they would give you a glowing review versus a moderate one.
If you irritated customers, they were more likely to leave a scathing review versus a more generous one.
In other words, there were fewer reviews to be had, and of those reviews, more of them were likely to be very positive or very negative. Plus, businesses had the opportunity to get reviews from customers they had never heard from before.
All of these factors have a direct effect on your online reputation and ability to attract new customers at a sensitive time.
As a result, if even some of these trends continue, it's even more important to gain new reviews (tactfully and legally) and manage false or negative ones swiftly and gracefully.
Here's how to do it.
Who writes reviews?
When it comes to writing reviews, there are a few types of people who are more likely to do it than others.
Repeat customers
Members of your loyalty program
Customers who leave positive feedback via posts on Facebook or other social media
Customers who open your email newsletter
Customers who have already left positive reviews in the past
These are the customers you're really hoping will write reviews, because they've already expressed interest (and hopefully their positive feelings) about your business. Plus, according to BrightLocal, the majority of consumers will write a review if asked.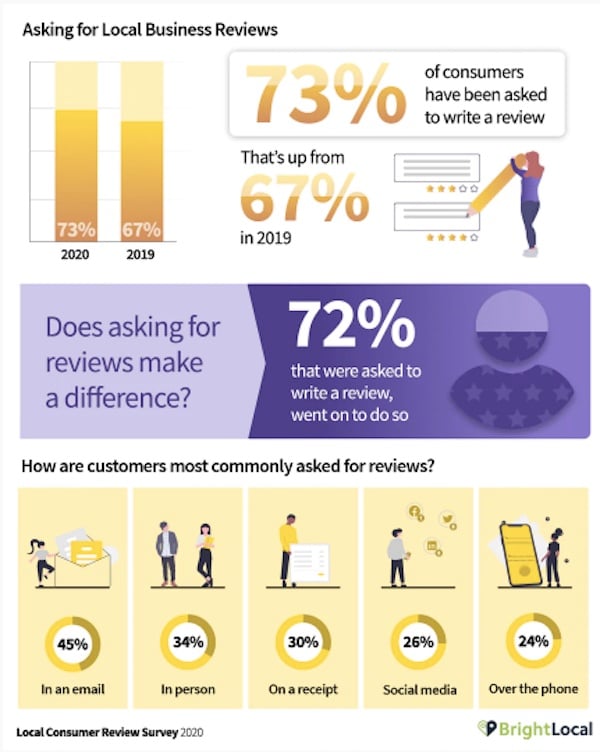 Source: BrightLocal
This is not to say you shouldn't welcome reviews from people who are unsatisfied, but it does mean that you should give loyal, satisfied customers the chance to write reviews.
As for those with grievances against your business, they likely fall into one of three camps: 1) former employees who are leaving a malicious review, 2) fake reviewers trying to damage your reputation, or 3) real customers who are dissatisfied.
The first two can often be reported as violating review site guidelines, while the third category requires a thoughtful reply in order to diagnose what went wrong and make it right.
In some cases, the unhappy customer may even update their review to be more positive after you've helped resolve the conflict. Learn more about responding to negative reviews.
Which review factors matter for SEO?
Studies over the years have indicated that some reviews and review practices count more towards your position in search results than others.

According to Whitespark's 2020 local search ranking factor survey, these are the review factors that may affect your search performance today:
Quantity: More Google reviews are better.
Positive sentiment: Positive reviews are better.
Keywords included: Reviews that contain keywords related to your products or services tend to be better.
Site authority: The authoritativeness of non-Google review sites is important.
Quantity of negative reviews: Negative reviews (both negative sentiment in reviews and low star ratings) can weigh against you in search results.
Fake Reviews: "reports of fake reviews on your GMB listing" (now Google Business Profile) can weigh against you.
Review Gating: If you are caught review gating, this can weigh against you.
Search engines aside, the following review factors are important for creating a positive impression on potential customers:
Responses: Reviews with owner responses are better, according to Moz. Not responding to negative reviews may cost you in rank and reputation. According to Brightlocal, 40% of those polled said they "always" read responses to reviews.
high star ratings (4-5) both on and off Google and the number of reviews by authoritative reviewers (e.g. a Google "Local Guide") are both important to potential customers, according to Whitespark's survey.
Where can you send customers to review your business?
You may be thinking: That's great, but where in particular should I encourage customers to leave reviews?
Here are some of the best review platforms that accept solicited (but not incentivized) reviews:
So, how should you ask for reviews? We've summarized some recommended approaches below.
How to ask for reviews (nicely and tactfully): 22 approaches
In person
1. Spontaneously when feedback is given in person: Kristen McCormick suggests that when someone compliments your business, this is a great opportunity to ask for a review. Let's say that you've just finished a project for your client, and they express what a pleasure it was to work with you. This is where you can say, "It was great working with you, too. We're on [platform] if you're comfortable leaving us a review. It would really help us out."
2. Planned in-person follow-ups: Similarly, McCormick says another good time to ask for a review is when you ask for feedback on a customer's experience. Let's say you own a tech store. A customer service representative could ask, "How was your experience today?" then, if the customer seems open to sharing, the customer service rep could follow up with a suggestion to leave a review.
3. Over a meal: If you're taking a client out for a meal to check in with them, Sophia Bernazzani suggests tasking for feedback with an open-ended question and tactfully asking for them to leave a review to "get the word out" about your product when appropriate.
On your website
4. At conversion points: Bailey Gray recommends placing review requests at conversion points on your website when your customer is most excited.
5. By chatbot: McCormick notes that you can program your chatbot to request a review.
6. On a landing page: McCormick says that if you sell downloadable products, you can put a review request right on your landing page so potential customers can go to your review site right after making a purchase.
7. Through review site badges: Bernazzani suggests making sure your site has links to your profiles on major review and social media sites. These are often located in the header or footer, making them visible on almost every page.
Over the phone
8. Planned review requests: At the end of a phone support session, the customer service rep can say "Would you be willing to give us feedback about your experience?" Then, a follow-up email could be sent if the customer says yes, McCormick says.
By text

9. Direct Ask: Review Trackers mentions that asking customers for reviews via text is another great method if you have permission from customers to message them.
By email
10. Post-purchase or post-engagement email follow-up: Darren Shaw says that the best time to ask for reviews is usually right after a purchase or interaction. McCormick says you can even put your request for reviews right in the order confirmation email.
11. Delayed email follow-up: You should wait to ask for a review is if a customer purchased a product that needs to be used for a few days first, Shaw says. Say, a vacuum cleaner.
In this case, you can send a follow-up email a few days after the purchase, and ask them how they like the product. Make sure to include a direct link to the place you'd most appreciate a review, such as your Google Business Profile page or Facebook. It's best not to embed review forms in emails as this might cause them to be flagged as a security risk.
A review request made a week after delivery
12. Newsletter: Gray recommends providing links to review platforms in your newsletter with a gentle ask.
13. In your email signature: Gray also suggests putting a link to a review platform here.
14. "Thank you" emails: McCormick recommends sending an email that thanks loyal customers and mentions how your business is doing (growing, an anniversary). Ask them what they love about your business and link to a review platform.
15. Personal customer outreach from staff: If your business is small, McCormick also suggests asking staff to send emails to customers they have personally worked with to ask for reviews.
On Social Media
16. Social links: Gray suggests adding links to your most important review platforms on your social media accounts.
17. Direct Messaging: Bernazzani recommends direct messaging customers on Facebook Messenger to ask for Facebook reviews.
In Print
18. Handouts: Shaw notes that it may make sense for your business to hand out paper review requests, such as if your business is a cleaning company.
19. Cards: If your business ships products, McCormick suggests putting a thank you note or small card in the box that asks for a review and provides a URL to your profile on a review site. Similarly, Donna Duncan suggests putting a link on your business card or appointment reminder cards.
20. Invoices: Jon Clark notes that you can also ask for reviews in invoices.
21. Posters: Stephanie Newton suggests putting a QR code or short link to a review platform on a poster and putting it up in your business.
22. Receipts: Newton also mentions that you can put a review ask with a QR code or short link on your receipts.
How to make asking for reviews easier
An email with a link to a review site is simple enough for online businesses. It really just comes down to whether or not the customer wants to do it. But what about brick and mortar businesses providing a service? If you work for a hotel, or a restaurant, or a salon, what can you do to encourage people to leave a review?
1). Outline the entire process in as much detail as possible.
You can use this free tool from Whitespark to generate a review handout that takes the customer through each step of the review process. All you have to do is provide your information, and Whitespark will automatically enter it into a template.
A personalized email
2. Personalize each review request email.
One easy way to do this is to insert their name. Avoid emailing everyone on your mailing list at the same time. This will help stagger the number of reviews you receive overtime. Plus, it will mean you aren't breaking Google's "no mass review requests" rule.
3. Direct your customers to enter the review site as organically as possible.
They can do this by logging into their Google account and searching for your business. This way each review will have a different referral.
4. Try review software if your business has many clients.
These tools offer features like:
Review monitoring: You get a notification when someone posts a review.
Automated campaigns: You are able to create campaigns that automatically ask customers for a review, rather than having to ask them individually.
Social media monitoring: You get notified when someone mentions your brand on social media so you can check it out.
Analytics: It generates analytics reports based on social media and review site activity.
CRM integration: Some software can plug into your customer relations management data so that you can ask previous customers for reviews.
As a general rule of thumb, the larger your business and the more locations you have, the more substantial the review generation software you will need. However, simple software can meet the needs of most smaller, local businesses. Some review generation software is designed for a particular industry, while others are useful for many different industries.
For small and local businesses:
For any business:
5. Use varied, approaches for asking for reviews, depending on the context.
Andrew McDermott lays out several ways to ask in his article, including:
Feedback request (e.g. "We value your feedback. . . ")
Direct request (e.g. "Would you be willing to leave us a review?")
Concern request (e.g. "Have you had any problems without product lately?")
Prestige request (e.g. "We're asking our top customers. . .")
Earnings request (e.g. "What can we do to earn a review from you?")
Gratitude request (e.g. "Thanks for shopping with us today. How was your experience?")
6. Ask at the right time.
The conventional wisdom, echoed by Bernazzani and McDermott, is to ask:
Shortly after a purchase
A little while after a purchase, if the product needs to be experienced to be appreciated
When customers are pleased with your business, such as when they're complimenting you or have just experienced great service (although this shouldn't be used to deter people who aren't pleased)
Other good times include:
At the end of a conversation (McDermott)
After a repurchase or reorder (Bernazzani)
After they tag you on social media (Bernazzani)
If they are looking at other products on your website (Bernazzani)
After they refer a friend (Bernazzani)
Review don'ts: tactics to avoid
In general, it's a good idea to read the guidelines for every review site your business is listed on to make sure you're not breaking the rules. Violating these guidelines could damage your reputation in your customers' eyes, and sometimes the review site's.
Review incentives
In the past, some businesses have offered prizes and discounts to those who leave reviews or fill out customer satisfaction surveys, but this is a bad idea.
Depending on the platform, incentivized reviews may be flagged as dishonest and filtered. Yelp, for example, forbids review solicitations and will remove reviews that break this rule.
Google and Facebook allow solicitations, but have other iron-clad rules.

For example, Google Business Profile forbids:
the use of reviews for advertising
manipulating reviews
including promotions in reviews
"accepting or offering money" for reviews
mass review solicitations
Sometimes it might seem like the only way to get people to actually leave reviews or fill out a survey is to give them a chance at a prize. However, by doing so, you may receive dishonest reviews that will immediately disappear.
In the end, it's always better to delight your customers with your products or services, and then ask them for a review soon after.
Review Kiosks
Some businesses use kiosks to collect reviews, prompting customers to fill out a digital form on a tablet or computer. It's best to avoid this tactic since many reviews coming from a single computer or mobile device tend to be filtered out by review sites.
If your business does decide to use a kiosk, use it to send users an email containing a link to a review platform. This way, customers can write reviews on their own devices.
Conflicts of Interest
Duncan recommends that you avoid asking anyone who is not a customer for a review, such as friends, relatives, customer's relatives, employees, or colleagues unless they are a customer. Naturally, you shouldn't write a review for your own business, either.
Phil Rozek (via Duncan) recommends that if someone you know is a customer, make sure that any personal relationships are disclosed. This helps you avoid looking like you're gaming the system.
Review gating and fake reviews
As Google's guidelines mention, your business should never engage in tactics like "review gating." This is a practice where a business determines whether a customer had a positive or negative experience, and then invites only the happy customers to post a review.
In this way, customers with negative experiences are steered away from posting negative reviews. This is against the rules for most major reviewing sites, including Google, Facebook, Yelp, and TripAdvisor.
Another "black hat" strategy is posting fake reviews. These are filtered by Google and other platforms.

Google filters content that it deems "inappropriate," including:
Fake (spam, fake comments)
Restricted (leads to a method of buying something restricted)
Off-topic (comments are not relevant to the location or product being reviewed)
Illegal
Terrorist
Sexually explicit
Offensive ("contains obscene, profane, or offensive language or gestures")
Dangerous or derogatory
Deceitful (The reviewer is not who they present themselves to be.)
Conflicting in interest (such as a review from a competitor)
These regulations protect consumers and businesses from malicious content. Most honest reviews will not anger Google.
If you encounter a fake or otherwise inappropriate review, you should report it to the review platform for three reasons: 1) if someone posted a fake review of your business, it could unfairly hurt your reputation, 2) if your competitor is posting fake reviews, calling them out may improve your standing, and 3) harmful reviews could disturb your customers.
How to spot and respond to a fake review
1) To help determine whether a review is fake or not, check for one of these common signs:
Missing information
There is no record of this person in your customer database (Evoluted).
The name of the reviewer and/or their profile image is missing (Evoluted).
The reviewer leaves a very low rating but doesn't say the reason (Evoluted).
Sketchy behavior
They reviewed many other businesses "in the same niche" in multiple states (Jason Brown).
They posted a bunch of reviews within a short period of time (Andy Beal).
They advertise a competitor's product after bashing yours (Beal).
They use the same phrases in many of their reviews. This could be a sign that they are using prescribed language (Catey Hill).
Linguistic tells
All the poster's reviews are completely positive or completely negative about a particular niche (Andy Beal).
They use many personal pronouns, such as "I" (Cornell University via Hill).
They set the scene more than they provide concrete details, and use more verbs than nouns (Cornell University via Hill).
They use industry-specific buzz words (Beal).
Their writing is sloppy and dramatic—poor grammar, all caps, lots of exclamation points (Beal).
Generic or clearly false information
They reference a product or service you don't offer, a different business's name, or other incorrect information (Evoluted).
The name looks fake (e.g. Jane Doe) (Hill).
They use a stock photo for their profile picture. (Do a reverse image search for their profile photo to determine whether it's from a stock photo site.) (Brown)
They use stock photos in the "customer photos" section (Brown).
2) Identify how this review violates the platform's policy. You will need this information later. For example, if you received a Google review that expresses dissatisfaction with another businesses's product, it would be considered "off-topic" by Google's Prohibited and Restricted Content Guidelines.
3) Once you feel certain that you are dealing with a fake review, write a helpful, polite reply that draws attention to whatever issue you have identified. For example, if they reference a product you don't sell, suggest that they might have left a comment for the wrong business. This way, every person that sees the fake review before it is taken down will know that there is something wrong with it. Plus, you may get SEO credit for replying to a negative review.
4) Flag the review.
How to report a fake Google, Facebook, or Yelp review on a computer
1) Sign into Google Business Profile.
2) Next to the review, click "Flag as inappropriate." You can take the same action if you are viewing the review in search or Google Maps.
3) Next, you will be taken to a page where you can enter your contact information and the reason why you flagged the content. Submit your answers. Google will follow up with you after several days if necessary.
1) Log into your business's profile.
2) Go to "reviews."
3) Find the review.
4) Click the three dots icon in the upper right corner of the review.
4) Select "Find support or report recommendation"
5) Follow Facebook's prompts to report the post.
1) Assuming you've claimed your Yelp listing, log into your business's profile.
2) Go to "reviews."
3) Find the review you want to flag.
4) Click on the three dots icon and select "report review."
5) Hover over the flag icon next to the review to check the status of your request. Yelp will email you follow-up information.
How report a fake Google or Yelp review on a mobile device
1) Open your GBP app.
2) Go to "Customers." Select "Reviews."
3) Find the review you want to flag.
4) Tap the three dots icon. Select "Flag as inappropriate," (Apple) or "Flag review" (Android).
Google Maps App (Android & Apple)
1) Open the Google Maps app.
2) Go to your business's profile.
3) Tap "Reviews"
4) Find the review you want to flag.
5) Tap the three dots icon. Select "Report review."
1) Make sure you've claimed your business page.
2) Access Yelp on your mobile device.
3) Find the review you want to report.
4) Click the three dots icon. Select "Report review."
Net Promoter Score
Instead of engaging in risky tactics, encourage customers to provide honest feedback. Then, monitor your reviews so that potential customers can watch you thank positive reviewers and respond tactfully to negative reviews. According to BrightLocal, 4o% of consumers "always" read a business's replies to reviews.
You can also help identify problems by determining your Net Promoter Score (NPS). This is one way to learn how customers assess your business' performance. According to ReviewTrackers, you can determine this by asking customers to rate the likelihood that they would recommend your business from 0-10.
The results fall into 3 categories.
‍Promoters: scores of 9–10‍
Passives: scores of 7-8‍
Detractors: scores of 6-0
Promoters are the most likely to leave a positive review. Detractors are most likely to leave a negative review. Passives are most likely not to leave a review at all.
To determine your business' score, subtract your percentage of detractors from your percentage of promoters:‍
(% Promoters) - (% Detractors) = NPS‍
If your score is low (below zero) then you have more detractors than promoters. In this case, you might want to investigate what is causing dissatisfaction. If your score is above zero, that means that your business is doing well. In that case, this might be a good time to contact more customers for reviews, since you have more promoters than detractors.
Review management takes time. If you're struggling to juggle your daily tasks with marketing, talk to us.
Topics: Search Engine Optimization, Local Business Marketing, Email Marketing, Reputation Management